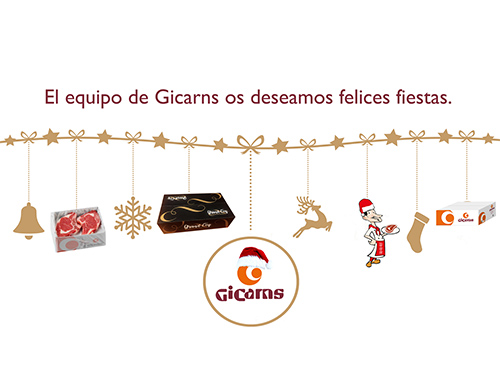 Merry Christmas
21/12/2018
The best wishes for the new year 2019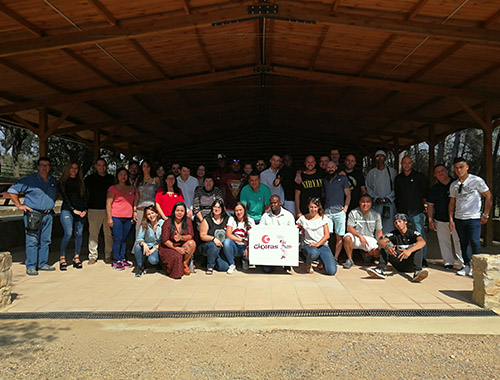 Thanks to all the workers for being part of this great team
01/10/2018
On September 29, 2018, Gicarns celebrated the annual corporate day with all its workers in the middle of nature. During the day we made fun activities and several prizes were raffled among the participants, the event ended with a great meal and an outdoor dance area. Without a doubt, it was a day full of joy and camaraderie of the entire Gicarns team.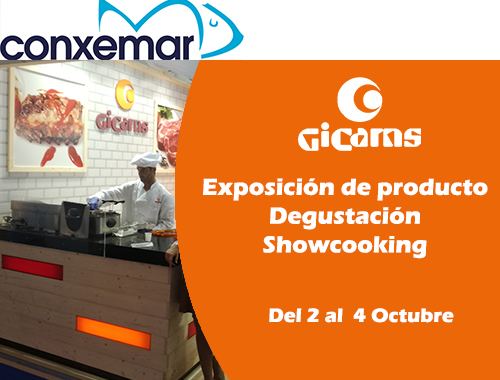 Invitation you to Conxemar 2018
19/07/2018
We participate in the next edition of Conxemar 2018, the trade fair of Europe reference for frozen products.

This professional meeting will be held from October 2th to 4th at the IFEVI fairground (Vigo).
In our stand, you can appreciate our main meats for foodservice.
In addition, we have a showcooking space, the place that you can taste a selection of our meat from the IV range and our candied meats from the our new brand called Grand Coq.

If you are a frozen distributor and you are thinking about discover news meat industries for Horeca sector, will be a pleasure attend and satisfy your necessities.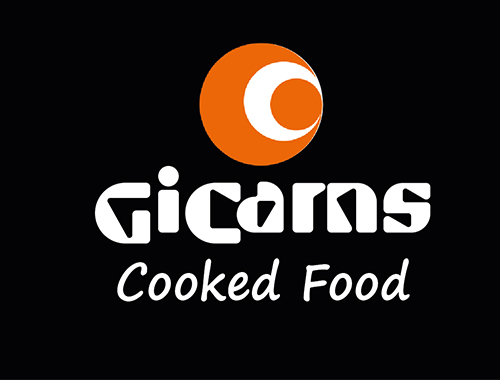 Grand Coq, new brand
02/02/2018
Grand Coq is the new brand of high quality frozen meats, which evolves towards the V range to offer the professional catering sector the advantage of making long-cooked meals with an assortment of candied meats and a selection of premium meats, formed by selection of beef and Iberic pork.
Grand Coq was born with the objective of satisfying the needs of the most demanding professional catering sector and contributing to making the restaurateur's business profitable by providing new solutions for today's chefs.
For more information sales , contact export@gicarns.com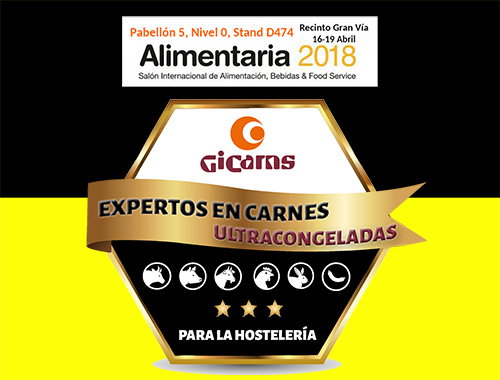 01/02/2018
Gicarns will atend the 21th edition of the Alimentaria Fair, the professional meeting of Food, Drinks and Foodservice a level international that is celebrating the 16th at 19th to April in the Barcelona fair.
We will be in the pabillion Intercarn, dedicated at meat sector, in the stand number D474, street D.
This year, Alimentaria take place with Hostelco and Restaurama, fairs specializaed at provide services for Horecca channel. For these reason, we are convens that it will be succesful for our market, don't miss it!
We will be a pleasure to attend you.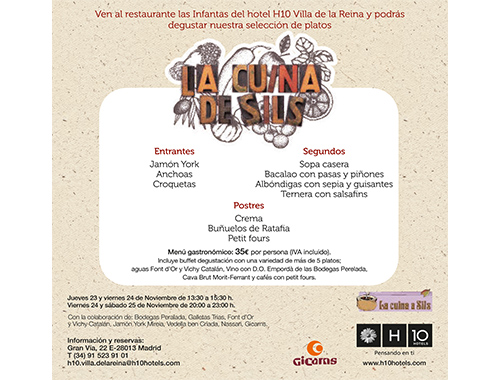 Traditional cooking event at H10 Villa de la Reina
15/11/2017
At Infanta's Hotel H10 Villa de la Reina situated in Madrid take place the Traditional cooking event with the collaboration La Cuina a Sils, the goal is show the gastronomy knowledge to generation to generation of the traditional cooking.
In the propose menu offer the special dish, meatballs with cuttlefish, elaborated with our meats. This dish is one of the most identitive of the grandmothers take part in La Cuina a Sils.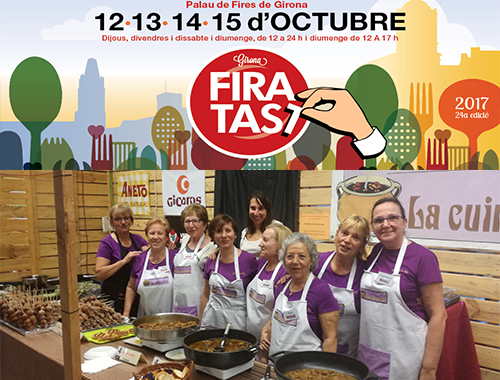 Colaboration with La Cuina a Sils at FiraTast Girona
13/10/2017
La cuina a Sils participe in the next edition of Firatast Girona, is the degustation fair of Catalonia is held from 12th to 15th to October at Palau de Fires of Girona.
La Cuina a Sils, in their expositor space, you can taste typical classic meal, as meatballs with cuttlefish or pig's trotters with mushrooms.. All have been elaborated with our meats.
La Cuina a Sils, is an association of "grandmas" from Sils. Is a non-profit association and voluntary. They cook and take part of some gastronomic events for all the territory.
Her goal is to project and preserve to traditional and home-made kitchen thorught the publications. "La Cuina a Sils"1994, "Les Nostres receptes de Cuina" (1997) or "Cuineres de Sils (2002).
See their recipes.
http://www.lacuinaasils.com/cat/receptes_cuina.php
Firatast-http://www.firatast.cat/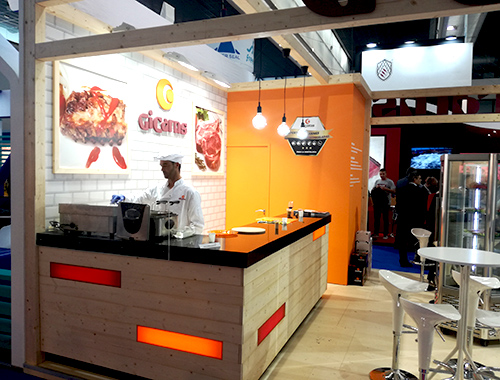 We are waiting for you at Conxemar
06/09/2017
Gicarns attend at the next edition Conxemar trade fair. This professional meeting is European reference of the frozen market in the foodservice industry.
Its take place in Vigo on 3-5 of October 2017.
In our stand situated at H-39, we will have a product display and show cooking our wide meat product in IV gamma, when you can know and taste our main meat products at the time.
Moreover, we will have more news.
Sign up for download your invitation free:
We are waiting for your visit.
For more information keep in touch with us.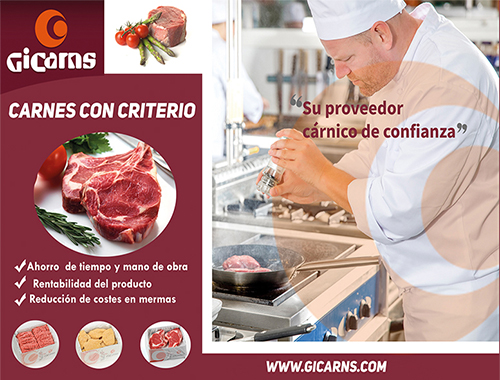 4 reasons to sell our meats
08/06/2017
1.Fourth scale meat. Selling meat without wastage makes a difference from your competence. Our meat is polished, cut and filleted so that professional chefs can forget to waste time in manipulating, cutting or polishing the meat. The product is ready to defrost and cook.
2.Wide range of meat products. Our aim is to offer an extensive range of meat products in order to meet all chef's needs: beef, pork, poultry, sheep, goat, rabbit and elaborated free gluten.
3.Maximum profitability of the product. The selling for unit/box makes it easier to have a more accurate control of the menu cost.
4. Versatile range that adapts to every type of establishment. We offer solutions for all kinds of food establishments. The meat assortment is adapted to the needs of each type of target. From fast-foods to caterings or restaurants.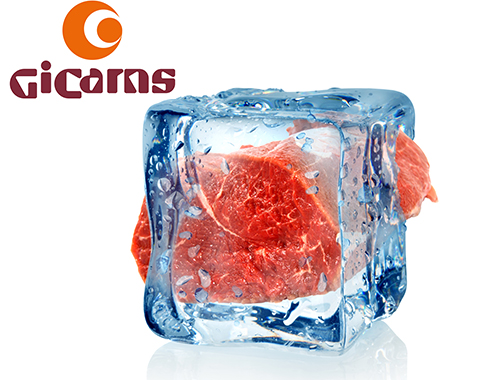 Advantages of Gicarns meat
29/03/2017
THE PROFESSIONAL COOK:
1.DECIDES WHEN THE USEFUL LIFE OF THE MEAT STARTS. Once the product is defrost, you get a fresh quality meat with all his life to come.
2. FEELS MORE COMFORTABLE to have the product when he want it. Defrosting per units (IQF) allows choosing the amount you need, without wasting product.
3. HAVE THE EXACT PRICE OF THE MENU COST. Price per unit allows a better control of the menu costs.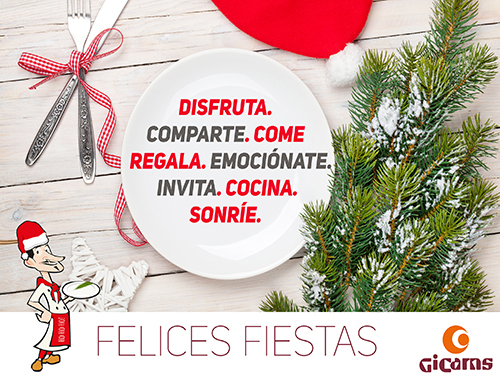 Merry Christmas
21/12/2016
All the Gicarns staff, we grateful for your reliance in us during this year 2016.
We wish you the best wishes for 2017.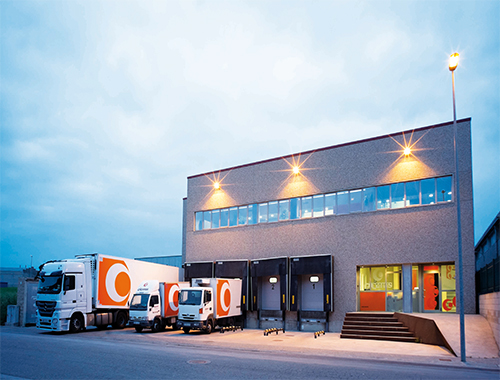 "We continue to proving that your frozen meat is the good quality"
06/09/2016
This year, we celebrate 10º th Anniversary. At the beginning a constant battle to convince that the good meat, work well done and honesty can be space in the competitive market as is the frozen sector.
In the first years, the frozen meat culture was synonym of cheap, secondly, or residual o waste. Our work base is the fresh meat of quality, good manipulated and ultra-freezing process to guarantee the maxim fresh and life self of the good. Today, we can make sure that our customers possess the coddled product, manipulated with approach, prioritizing always, the quality, food security, and homogeneity of the product.
In my point of view, there is a large path to run and to establish news developments about frozen meat concept. There is not back and is the best way to see the present and the future. In this sense, we must provide developments every day, to organize and to readapt to this economical-social situation and most especially to guarantee more food security to the final consumer.
We define as a young company with a fighter spirit. We command with our daily work, knowledge, confidence, reliable, enthusiasm. We want to be the added value for our customers in confidence, security, time and customer service. We prepare to be the best to develop new projects, invests, concepts, we are in always training and with enthusiasm; we want to be when partners need us.
We wish to thank who is confidence in us, and help us to be who we are today.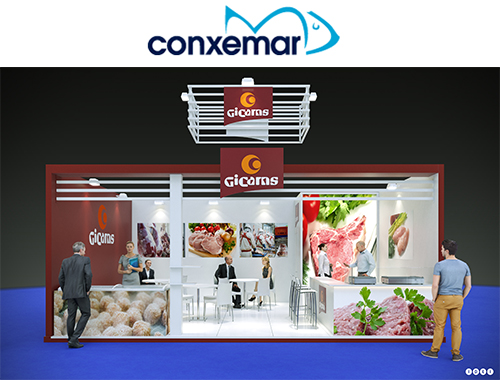 See you in Conxemar 2016
29/08/2016
Such as every year, we attend at the XVIII edition Conxemar trade fair in Vigo (Spain). This professional meeting is a international reference of the sales and transformation sector of frozen products in the foodservice industry.


Our presence in Conxemar is

the perfect place to meet news companies and to establish new business relationships and to develop a long and trusted relationship with all of our customers. Moreover, we dispose of product display and show cooking, where you can know and taste our main meat products at the time. You will find at H-10 (Stand).


The trade

will be held at (IFEVI) Avenida do Aeroporto, 722. (Vigo) from

04th -6th, Oct 2016

.
Schedule: Tuesday 4 and Wednesday 5th Oct from 10.00 h to 18.00h and Thursday 6 th Oct from 10.00 h to 16.00h.


Sign up for download your invitation free:



CLICK HERE

We hope to see you in Stand H-10 (Zone H)!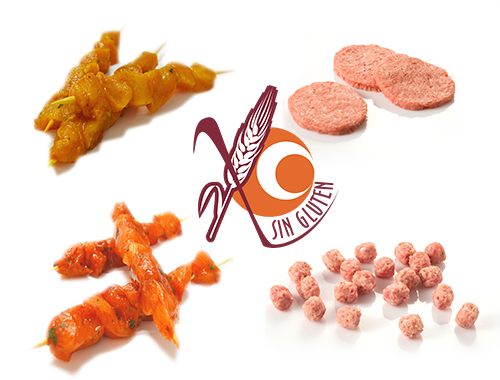 Expand the assortment of poultry
21/06/2016
We present the new mini meatballs of chicken, chicken meatballs, the mini hamburger of chicken and the new spikes of chicken to the paprika and to the curry inside the scale of products prepared without gluten.
The new scale of products of poultry of Gicarns gives answer to the demand in increase of the consume of meat of poultry that waits for an entire uptake in Europe of 11,5 millions in 2016,according to USDA (Department of Agriculture of the United States).
The new products of poultry Gicarns, they have had a big reception in the sector of the social communities, caterings and distributors. Thanks to the quality of the raw material and its elegant presentation: weight unified, interfoliated by layers, IQF and its exclusive format of 4-5 kg boxes / 8-10kg.

Download the catalogue of poultry products. PDF format

Download the catalogue of ready-prepared products. PDF format
More information info@gicarns.com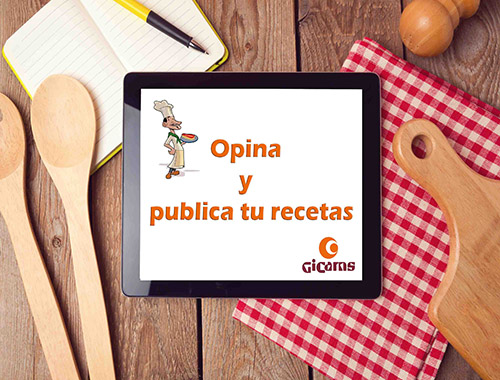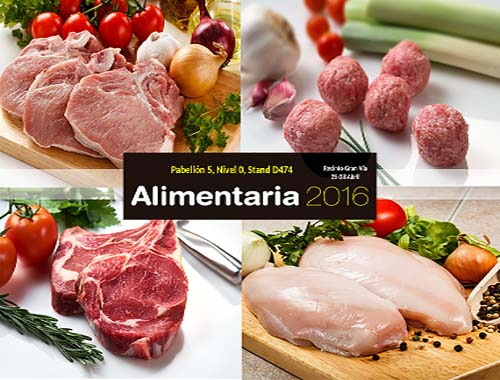 Come to visit us at Alimentaria 2016
16/03/2016
Like in every edition, Gicarns will be present at Alimentaria 2016, The International Food and Beverage Exhibition, on the next 25th, 26th, 27th and 28th April in Barcelona.
We invite you to visit us, together with our partners from Grup Alimentari Carni, from which Gicarns is part of. You will find us at Intercarn Hall (Hall 5), one of the main engines of Alimentaria 2016, focused on meat products and their derivatives.
You can't miss this international key event for the food industry and have the opportunity to meet face to face.
We look forward to meet you at Pavilion 5, Level 0, Stand D474 (Recinto Gran Vía).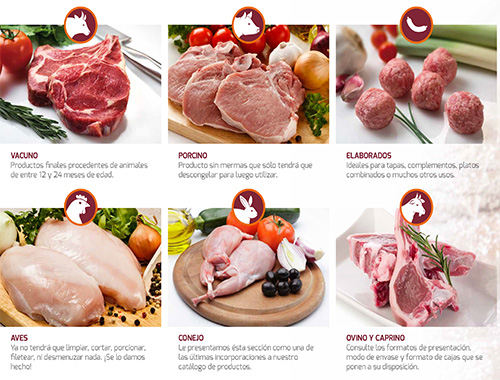 The new Gicarns' online catalogue.
24/02/2016
You can consult the online catalogue of GICARNS. There is a wide range of meat products: beef, pork, poultry and rabbit, lamb and goat kid and ready-prepared gluten free products.
More than 200 references at your fingertips. Consult and share our catalogue anytime, anywhere.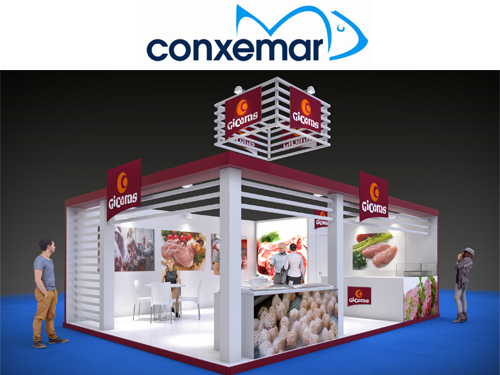 Gicarns invite you one year more in Conxemar
23/09/2015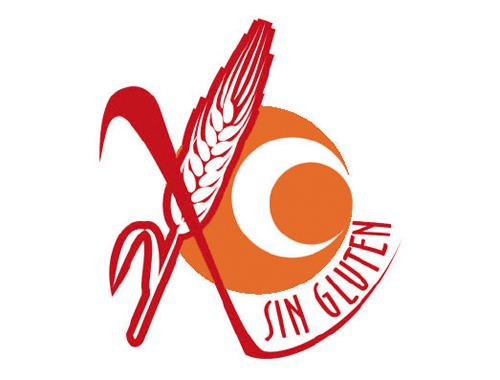 The challange to make gluten free products
03/08/2015
GICARNS we assume a new quality commitment to our consumers, transforming the entire range of items in products suitable for celiac.


Fully eliminate the presence of gluten in the facilities, it has been essential to ensure the absence of traces and cross-contamination requirement.
This has been a major innovation effort made in the plant, to be a priority to maintain the organoleptic quality, texture and appearance of the products that until now were offering.
However, it was a prerequisite for the bet GLUTEN, could continue our items to all our customers and consumers.
Aware that the current economic situation is not easy, GICARNS has chosen not affect rates increased cost of adapting to this project.


We can now offer an assortment of more than 120 References GLUTEN, among which 33 are preparations of meat, and include our pie for celiacs.


And we continue to work to reach the most vulnerable citizens with greater assurance of quality.
Gicarns invites you to Conxemar
25/09/2014
Again GICARNS will attend the Fair Vigo Conxemar the coming days 7,8 and 9 October.
This time he will present new products to roast 5th Range
We find in the area F, Stand 12.
Download link in the form below to receive your invitation
HERE
.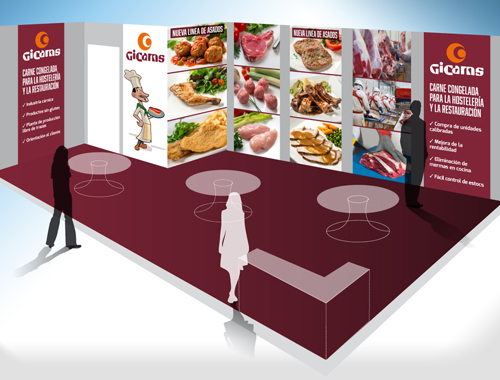 Present at the Forum Gastronomic Barcelona
25/09/2014
For the first time GICARNS also be present at the Forum Gastronomic Fair in Barcelona from 20 to 23 October.
You will find us at hall 1 booth 213.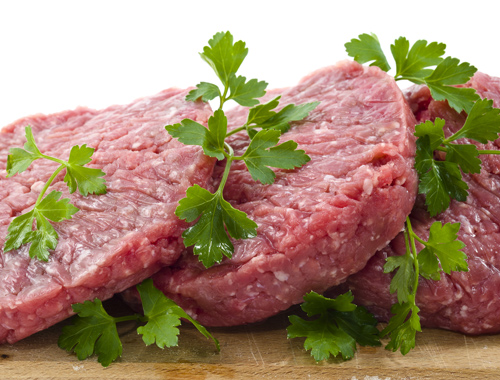 Gicarns begins to produce its products without gluten
03/03/2014
In a continuing challenge of improving the quality of the products we produce, and always willing to respond to the demands and needs of our clients, we have begun GICARNS production GLUTEN FREE products, suitable for coeliacs.
In recent years, the diagnosis of this disease has increased significantly, affecting an important group of children and adults, which should completely exclude the presence of gluten in your diet. To meet this need with guarantees, kitchens must adapt its facilities, equipment and processes, and develop these individualized menus of other dishes. This implies a significant additional costs, which must be added the price differential of gluten-free foods.
In GICARNS, we have adapted our formulations, raw materials, and procedures, to develop products suitable for coeliacs, thereby facilitating and make work in their kitchens.
The process has been carried out in strict rigor, establishing analytical and operational controls needed to provide food and nutritional security essential.
The products have been tested and are presented with the same taste, texture and quality as always, so that its organoleptic quality is not affected.
GICARNS started their productions without gluten, which will soon be marketed. The products and items produced under these controls have been properly identified, and can differentiate because their labeling contains the GLUTEN FREE PRODUCT references.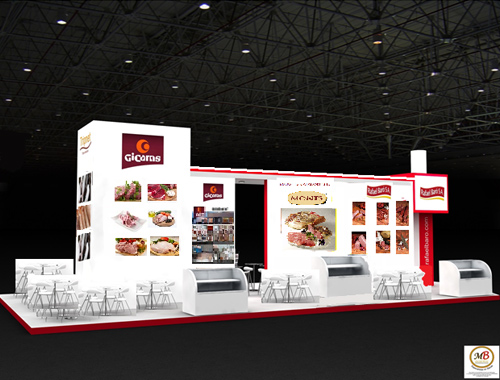 Présent dans l'Alimentaria 2014
03/03/2014
From March 31 to April 3, GICARNS will attend Intercarn Food in the classroom, and hand GRUP ALIMENTARI CARNI the part, with a vertical integration of the entire process, from animal husbandry to marketing of fresh and frozen meat products.
Located in Hall 5 Stand D 171, GICARNS be part of one of the hubs of Alimentaria 2014.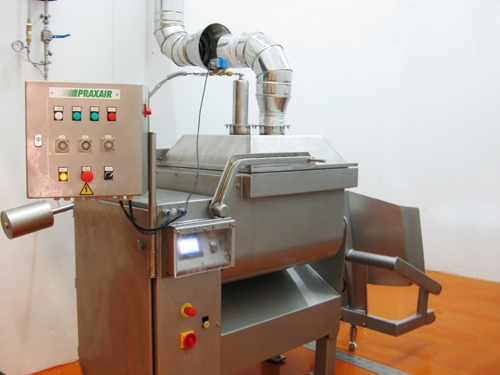 The continue investment from Gicarns to search the I+D+I
20/09/2013
Gicarns has the target to improve its quality food products and the manipulation development processes.

With a new cooling system using CO2 in the mixing process we are able to maintain the cold chain, improve the organoleptic quality of the product, keeping the texture, color, flavor, as well as guarantee the food security.

Improvement that can be seen once the product has been transformed and cooked. Despite a very competitive market, Gicarns sees very necessary to progress in production processes, which can increase the cost of the product, bud they develop its properties significantly.

Joan Sala: We eat what we produce and sell, is to say: security, trust, guarantee and health.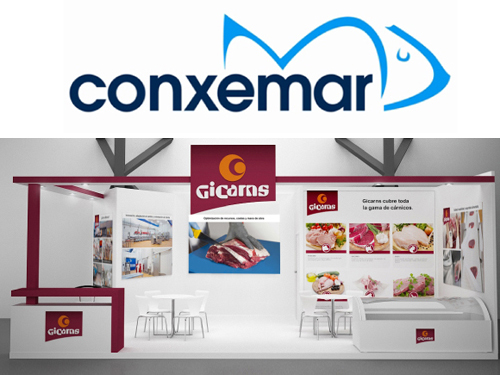 Gicarns in CONXEMAR 2013
20/09/2013
The following 1, 2 and 3 October, it will take place the fair in CONXEMAR 2013 Vigo, Gicarns will be present at Stand F9.

The reason is the presentation of novelties in a wide range of frozen meat products for the distribution in packaging size 3 to 5 kg.

With presence in all the Iberian Peninsula, with this action Gicarns look forward to consolidate the distribution system and trust between the relationships with their customers.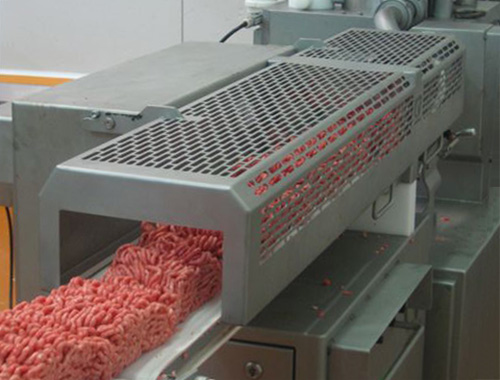 New machine for the minced meats line
30/05/2013
To meet the need in the FOODSERVICE market for a 4th-range product, finished and which requires no handling, Gicarns has begun working on a new preparation and presentation of beef, pork and mixed minced meat to enable the product to be defrosted and cooked in the kitchen

A system of double mincing and freezing which avoids solidification makes the meat come out looser and tenderer when defrosted, with a more agreeable texture.

Quartering the animals in our own facilities ensures the absence of other meats in the production line, thus guaranteeing the quality, traceability and food safety of the meat, from input to output.

It is presented in blocks of 1 kg and 4 kg per box, and 1 kg can be defrosted whenever necessary. This is in line with our aim at Gicarns aim to continue streamlining and improving the work of cuisine professionals while at the same time contributing to the optimisation of resources and the reduction of wastage and labour costs.

The specialisation of our professionals guarantees the success of the results. Innovation and adaptation to change ensures our customers' success.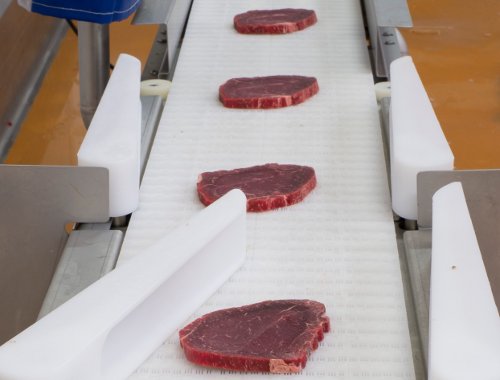 New sorting machine
29/05/2013
Gicarns is now more committed than ever to product uniformity.
We continue to invest in improving our products and services, and we have acquired a new sorting machine with capacity for 120 weightings per minute and a margin of +- 5 grams.
Our customers' requirements have led us to improve the calibration in the handling of our products, for more accurate scaling and improved returns.